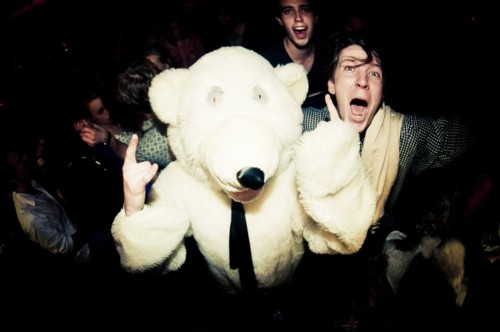 On this laptop, I have ten songs by eight individual artists splattered across my iTunes. Sabotage must've occurred while in-transit, leaving an army of thousands to not one sole soldier. Never mind, the headphone input is broken to the point where it picks up just the right or left ear and the basic layering of vocals and guitar only, and speaker quality borders on whispers of something boring to a deaf person. Plethroa or none, there's no real use in worrying.
"So if you're leaving with a bear tonight, for some lovin' in the pale moonlight, well you know everything's going to be all right."
The car boasts a busted radio that gives off a straight line hiss just often enough to be reminded of its usefulness and a passenger window that fails to drop on any command – or by any attempted translation – to relieve my lungs of swamp-heat. Filling the air's open space with my own voice is cause for concern, but mostly irritation. All the while I can't remove this mess from my head. Without my library, things like this appeal. "I know you want it. You know you want it." I don't. I want my songs back.
[Hug.]